Today we have prepared a very fresh and very special recipe…  Keep enjoying your summer!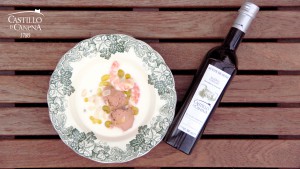 Ingredients
1 clove garlic
150 grams of raw green almonds
100 gr white bread soaked in milk
150ml Extra Virgin Olive Oil Family Reserve Arbequina
4 tablespoons sherry vinegar or cider
salt
1 liter of water
Shrimp for garnish
Shrimp ice cream
Preparation
Chop the almonds with the garlic and salt. Add the bread soaked in milk and continue beating. Gradually add EVOO Family Reserve Arbequina. Then, incorporate vinegar and finally water until the mixture has the consistency of a cream.
Store in the refrigerator and when serving, add a scoop of shrimp and prawns and garnish with a few slices of almonds.
August 2015