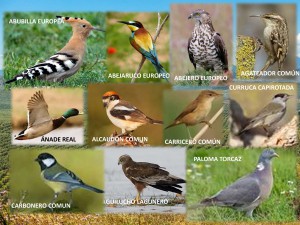 Thanks to the "Proyecto Olivares Vivos" (Alive Olive Groves project) – SEO BirdLife in which we are engaged since July 2015, we have collected information about the number of birds which can be found in our farm during the months of April, May and June of this year and … we have been pleasantly surprised!
We have confirmed the enormous biodiversity that exists in our olive grove, as we find nearly 50 different species of birds in there. You can see some of them in these pics!
Now we are working together with OLIVARES ALIVE technicians in the publication of a guide of birds that can be spotted in our olive grove. We'll specify  in detail the characteristics of each species, info about nestings, plan zones where the sighting is more frequent, etc. We will keep you informed!