We join the French tradition of La Chandeleur with a very easy and quick crepes, to prepare it you just need:
Salted pancakes by Ines Rosales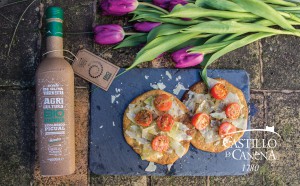 Cherry tomatoes
Parmesan cheese in flakes
Thyme
Picual Biodynamic Castillo de Canena EVOO
Preparation
Cut the tomatoes in half.
Cover the pancakes with parmesan flakes and place some tomatoes on top. Then we finish with a trickle of extra virgin olive oil picual biodynamic Castillo de Canena and take to the oven for about 5 minutes.
And ready! Happy Chandeleur to all!