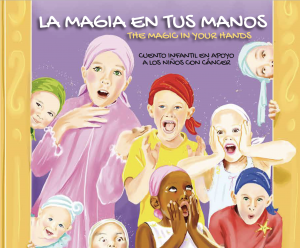 Today we want to share with you a beautiful project with which we collaborate and we want to help spreading his message throughout the world, as well as we do it assiduously with other causes that we consider important and fair.
These beautiful children's stories come with illustrations in black and white so that children can color; and also they count with a storyteller CD. These stories named "The Magic in your Hands", in Spanish and English (both the text and the CD), is an initiative of Alas en las Cicatrices association that fights against cancer. Important to say that 100% of the profits raised through the commercialization of these books, will help a lot to continue supporting the excellent work of this Association.
The main objective of the Association ALAS EN LAS CICATRICES is the fight against cancer and its aftermath through the development of outreach, research, prevention and training activities, aimed at both the sick and their families. In this way, they collaborate with other Foundations and Associations that develop projects with this aim and, at the same time, they have their own projects such as children's training camps for children who have suffered from the cancer disease and their families. The idea is that professionals specialized in the sequels that derive from cancer, teach participants how to acquire healthy habits based on proper nutrition and physical exercise, all through playful activities.