INGREDIENTS
Chicken breast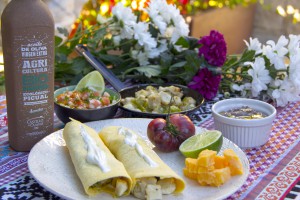 Corn or flour tortillas
Italian Green Pepper
White onion
Cheese
Salt
Ground black pepper
Castillo de Canena Biodynamic Picual EVOO
Preparation
Cut the chicken. Then we chop the onion and cut the green pepper in cubes.
Heat the Castillo de Canena Biodynamic Picual extra virgin olive oil in a frying pan and sauté the onion. Add the chicken and green pepper and season with salt and pepper.
Cook over medium heat for 15 to 20 minutes, stirring occasionally.
Cut the cheese into cubes and heat the tortillas in a frying pan.
Fill the tortillas with the chicken and cheese, squeezing well to form a burrito. Serve with pico de gallo and guacamole.
Happy Halloween!