INGREDIENTS
1 duck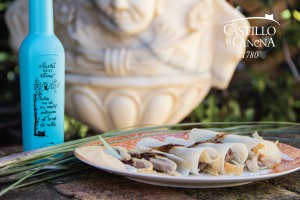 2 Chives
1 Cucumber
Oak Smoked Olive Oil Arbequina Castillo de Canena
Hoisin sauce
Rice pancakes
PREPARATION
Varnish the duck with our smoked oil ( Oak smoked olive oil arbequina, the blue bottle!) We roast the duck, depending on the size, will need more or less time in the oven.
Once roasted, we will chop the meat of the duck.
Peel and cut the cucumber into sticks. Also the chives.
We will add our smoked olive oil (to taste) to the Hoisin sauce.
We will serve the rolls, putting a spoonful of the mixed sauce on the pancake. Then we will add some roast duck meat along with cucumber and chives sticks that will refresh the palate … and enjoy!
Happy Chinese New Year!
Take a look of other appetizers for chinese new year!