In these special days, we are very proud to wish you a very Merry Christmas and a happy New Year 2016!
We hope you enjoy a lot with your family and friends during these days and… we will surprise you the next year with many new projects!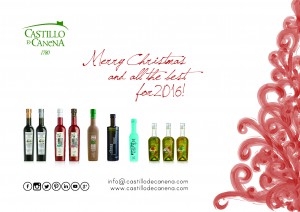 We share with you this delicious menu that we have prepared especially for Christmas and New Year,  with our extra virgin olive oil, of course!
Appetizers:
– German sweet salad with our Family Reserve Arbequina EVOO
– Crudités with cheese and Family Reserve Picual EVOO
– Confited cod & caramelized peppers with Family Reserve Picual EVOO
– Shots of cauliflower cream with our Smoked olive oil (Oak Smoked Arbequino)
First dish:
– Lentils with foie & our Family Reserve Arbequina 
Main dish:
– Cava sirloin & baked potatoes with herbs and Family Reserve Arbequina EVOO
Dessert:
– Nougat ice cream with spicy Arbequina chocolate sauce
hope you enjoy it!!
December 2015