Stuffing for the turkey, done separately!
(If we cook it separately,  turkey will be juicier and sauce will be cleaner)
 INGREDIENTS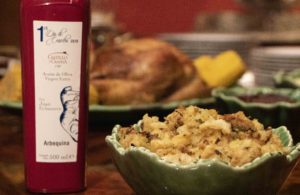 4 or 5 rennet apples, peeled, cored and diced in cubes
1 stick of celery
1 handful of walnuts
1 handful of dried cranberries
Extra Virgin Olive Oil First Day Of Harvest Arbequina
 PREPARATION
Sauté the apples and the celery in First Day OF Harvest Arbequino EVOO until tender. At the last moment, add the walnuts and  blueberries to the mix. Outside of the fire, add a generous splash of First Day OF Harvest Arbequino
Serve hot.