Castillo de Canena, first olive oil producer company certified by the SGE21, an Ethical and Socially Responsible Management System
Aligned with the latest trends in environmental, social and good governance, Castillo de Canena Group, producers of one of the best EVOOS in the world, has taken another step
in its continuous commitment to sustainability in all areas. Now, Castillo de Canena has implemented an Ethical and Socially Responsible Management System, (the SGE 21 standard) in its business strategy.
This certification corresponds to the main transparency and reporting frameworks to maximize synergies (Global Compact, GRI, SA8000 …), being compatible with other traditional Management Systems of the Group and their corresponding certifications in terms of Quality, Processes, Environment, Safety and Health.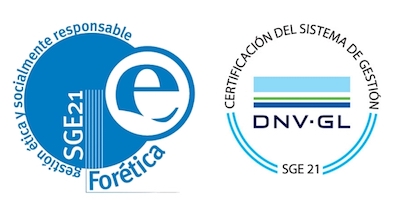 FORETICA, owner of the standard, grants this SGE 21 certificate to those companies whose Ethical and Socially Responsible Management System satisfactorily exceeds the audit carried out by an external certifying entity. In the case of Castillo de Canena, this external certifying entity was the renowned DNV. In addition, this audit needs to be ratificated by the Certification Committee. This Committee guarantees that the company has implemented a management system that allows monitoring all contingencies related to Social Responsibility, in a cycle of continuous improvement.
We communicate with great pride that we have achieved this SGE21 certification in Corporate Social Responsibility! Following the European standard regulated by FORETICA and having DNV as external auditors, we are the first olive oil company in the world to validate itself with such certification.
We believe that excellence is not only about processes of successfully producing and marketing one of the best EVOOs in the world. This, being important, it's not enough. We understand that in these times, companies, to deserve to have this name, must also work on ethics and corporate values, for a conduct that respect the principles of solidarity and identification with the territory and the health of the Planet. We have always maintained this commitment at Castillo de Canena, from the very beginning, but we wanted to endorse it externally as well. Nowadays we can confirm that our Corporate Creed contemplate the full arc of social responsibility in all its facets and fields, and that our corporate policies adjusted to objective normative criteria.
To comply with the universality of the requirements demanded by the SGE21 certification, we have analyzed all our internal regulations regarding labor relations and human resources, equal opportunities, responsibilities and rewards; policies with suppliers, level of satisfaction of our customers, support to the territory, protocols in relation to the Environment, sustainability and fight against climate change, good governance, transparency, exhaustive observation of tax, accounting and occupational risk prevention legislation. It has been proven, in short, that our level of excellence and quality is holistic covering each and every one of our activities and actions that we develop as a company.
The new Management and Social Responsibility System is structured / articulated in nine critical areas, which includes all stakeholders and with which the Group interacts and is in continuous dialogue, in order to detect their needs, expectations, points of improvement and level of satisfaction.
Castillo de Canena Group management components have been key to incorporate a responsible culture in the Group. They believe in Castillo de Canena as a responsible, innovative and sustainable company within the olive sector. In the words of Francisco Vañó, general director of Castillo de Canena, "with this SGE21 certification, Castillo de Canena Group completes a 360º arc regarding its quality and demand processes in relation to all of its groups of interest, validating its corporate policies and its commitment to society, the environment & transparency and good governance".  Rosa and Francisco Vañó, leaders of the Castillo de Canena Group, have also expressed their "satisfaction for having been pioneers in obtaining the first Standard to certify at a European level in matters of Corporate Social Responsibility".
The declaration of intentions of the Castillo de Canena Group has developed 4 different documents which can be read at its webpage: CSR Policy, CSR Report, Corporate Creed & the Anticorruption Policy.
Every person related to Castillo de Canena and people with which we interrelate, have noticed the new certification: Senior Management, people who are part of the Castillo de Canena team, customers and final consumers, suppliers and supply chain, social and environmental environment, investors, competitors & Public Administrations.
The indicators established by the standard are objectively evaluable and susceptible to an external validation of our CSR corporate policies.
For all this, and because of the need to be anticipated to the challenges that this society presents us in constant change, we communicate, with great pride, that we are the first company in the olive sector to get certified by the SGE 21 standard: 1st European standard certifiable in CSR. This standard establishes the requirements that an organization must fulfill to integrate the social and environmental challenges in its strategy, processes, activities and management.
Here you can read the 4 different CSR documents: