The Prestigious Chefs' Association "Euro-Toques France" visits Castillo de Canena to experience one of the finest harvests in the world
Castillo de Canena, based in Jaén, is the only Spanish company recognized by the Association in the category of Extra Virgin Olive Oil
Euro-Toques member restaurants in Jaen will attend a gala dinner to celebrate the Association's sisterhood with its French equivalent

October 23rd, 2016.  A group of ten chefs from the Euro-Toques France chefs' association, led by their General Director Christian Leclou, will visit Castilla de Canena to observe the harvest and learn about one of the best and most widely-acclaimed extra virgin olive oils in the world. The association is interested in understanding in detail the way this Jaén-based company carries out its harvest, using cutting-edge technology to create oils that are rich in aroma and flavor and highly versatile in the kitchen.
The French chefs point out that they were already acquainted with the properties of Jaén oils, but the extraordinary quality of this oil—which they now have experienced first-hand—took them by surprise because it opens up new possibilities for their cuisine.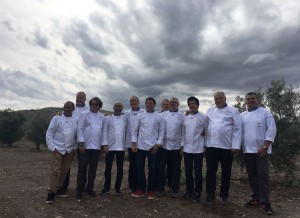 The group will visit the Castillo de Canena orchards and oil press to witness the diligence and innovation that characterizes this oil company's production, especially in its use of the cold chain: essentially, Castillo de Canena has developed a continuous cold chain that improves the product's quality throughout the harvest process, from the orchard to the bodega. After visiting the orchards and the oil press, the French delegation will dine at the restaurant Casa Herminia in Jaén to celebrate the establishment of a sisterhood with the chefs of Jaén.  There they will encounter the delicacies of the region, such as artichoke confit and loin of venison, in harmony with Castillo de Canena's extra virgin olive oils fresh from this year's harvest.
Casa Herminia is one of the restaurants that forms part of Euro-Toques Jaén; the restaurant Juanito is the association's delegate. Other member restaurants include: Cantina de la Estación, Restaurante Los Sentidos, and Restaurante Tamesis.  Representatives from all these restaurants will attend the dinner at Casa Herminia to celebrate their association's sisterhood with its French equivalent.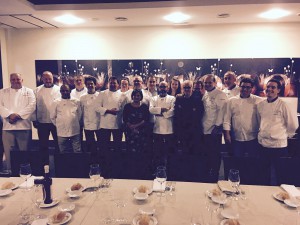 In all the countries in which Euro-Toques exists, the association is made up of top-level chefs who are committed to promoting quality products, sustainable production and excellence in haute cuisine.  In France, the association's president is Paul Bocusse, a chef famous for how he has revolutionized, and continues to revolutionize, our ways of cooking.
Other chefs associated with Euro-Toques include Paco Roncero, Xanti Elias, Firo Vázquez, Sacha Hormaechea, Ramón Freixá, Pedro Larumbe, Mario Sandoval Andrea Tumbarello, etc.
Prestigious brands such as Varlhona Chocolates, Nespresso Coffees, and Masse Foie also form part of this association. Castillo de Canena is the only producer of Extra Virgin Olive Oil to collaborate.