Yesterday the great journalist
Carlos Herrera
enjoyed some delicious tapas prepared with
our oils
at the restaurant
La Lata Montada
!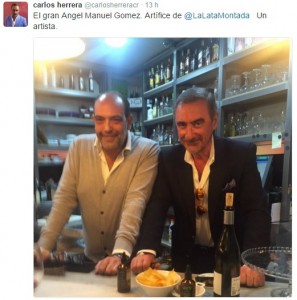 Among them,
Arbequina&Co
(our latest project: 99.5% of our Arbequina EVOO + essential oils from different plants, flowers and fruits) and  Oak smoked Arbequino which as you know is handmade and 100% natural!
It is an honor! thank you very much!!
We encourage everyone to try it 😉 You will love it!
March 2016