INGREDIENTS
A thin quality bread that you like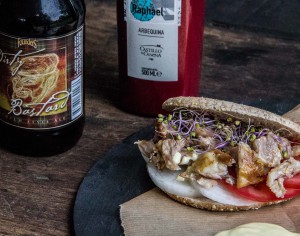 Pork ribs
Honey
Soy sauce
Tomato sauce or ketchup
1 egg
Vinegar or lemon
Fresh chives
Fresh green tomatoes
Sprouts
Castillo de Canena Oak Smoked Arbequino Olive Oil (Our blue bottle!)
Castillo de Canena First Day of Harvest Arbequina EVOO
FOUNDERS Dirty Bastard craft beer
PREPARATION
First we will prepare the sweet ribs. Mix honey, soy sauce, ketchup and Castillo de Canena Oak Smoked Arbequino Olive Oil in a bowl.  Cover the ribs with the mixture and cover. Leave in the fridge for 3 hours (they can be prepared the day before as well). Afterwards, bake with maximum temperature for about 1 hour, approx.
For the mayonnaise we will use two of our oils: half with Oak Smoked Arbequino olive oil (the same as used for marinating the ribs) and the other half with First Day of Harvest Arbequina extra virgin olive oil, and a few drops of lemon or vinegar. Place the egg, few drops of vinegar or lemon juice and the 2 olive oils mentioned in a long containter. Beat with a mixer until the mixture emulsifies. Add salt, according to taste.
To set this fine rustic sándwich up, we opted for a thin but tough bread. Open it and place a first layer of onion and tomato slices. Over ir, place the meat of the ribs (which we will have previously separated) and end with some sprouts (your favorite ones!).
You can present the mayonnaise as a dipping sauce, but you can also integrate it into the sandwich!
This is a very special ribs sandwich that will surprise you, especially if you accompany it with a surprisingly complex beer as DIRTY BASTARD by the artisanal brewery Founders Brewing. It pairs very well with meats and especially if they are accompanied by a sweetish sauce.
Dirty Bastard craft beer is made with seven varieties of malt. Outstanding hints of smoke, peat and toffee and leaving a caramel sweet memory… It will surprise even those who are not declare as beer drinkers!