INGREDIENTS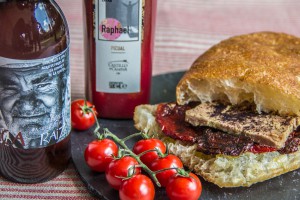 Glass Bread
Foie block or sliced
Dried tomatoes, preferably cherry
Bell pepper
Grated dried black olives (if you do not find it, replace with tapenade, we also have the recipe!)
Castillo de Canena First Day of Harvest Picual EVOO
PREPARATION
Cut a thin slice of foie and grill it quickly.
Open the bread (preferably glass type) and dress it generously with Castillo de Canena First Day of Harvest Picual extra virgin olive oil. Then put several dried tomatoes as base for the sandwich (we have chosen dehydrated). Over tomatoes, place the foie and sprinkle some bell pepper and grated dried black olives.
* If you do not find grated dried black olive, replace it with tapenade. You can see here our recipe for tapenade.
This snack would not be the same if you don't  accompany it with a superb artisanal beer … the best choice for us is MICA Raíz (by MICA microbrewery) for its connection to the land, thanks to its aromas which that take us directly to the Ribera del Duero (Burgos, Spain).
It stands out for its sweet touch of candy but balanced by a singular bitterness and notes of thyme that make it unique.