Following its commitment to the United Nations Global Compact for sustainable development, and coinciding with the presentation of its first CSR Report, 
Castillo de Canena presents its 15th limited edition from its exclusive First Day of Harvest collection, designed by rally driver Carlos Sainz
 – This extra virgin olive oil is made from carefully selected olives from specially chosen terroirs: all the processes involved are monitored and the evolution of the fruit is checked on a daily basis, allowing the harvest to begin on the exact day of optimum ripeness
Carlos Sainz wanted this new label to embody the idea that hard work and sacrifice lead to success
In its pursuit of excellence and as a benchmark company in haute cuisine as the producer of some of the best extra virgin oils in the world, Castillo de Canena launches its 15th limited edition of its iconic First Day of Harvest. Unique in its category, it is a product that is eagerly awaited throughout the year, standing out among high-end oils thanks to its gentle harvesting, its aroma, flavour and quality.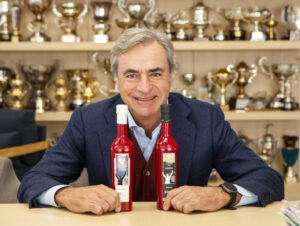 'Since 2003, Castillo de Canena has been producing early oils that are harmonious and have the perfect balance. It is therefore critical to determine exactly when to start the harvest of the various terroirs that have been chosen over the previous months. It is just as bad to be hasty as it is to postpone the harvest. This early harvesting of the olives allows us to create more in-depth extra virgin oils, as well as increased phenolic compounds and a higher percentage of oleic acid,' explains Francisco Vañó, General Manager of Castillo de Canena.
To do this, Castillo de Canena uses precision agriculture to determine exactly the most suitable day to start the harvest of each varietal. In addition, using science and the latest technology, the company can check – in real time – the physiological condition of the olive trees and their different needs at every phenological stage.
As for every other edition, a celebrity linked to culture, art, sport or the sciences – and a lover of olive oil – has been commissioned to design the label for the characteristic cherry-red bottles. At previous editions, this unique project was graced by the presence of different celebrities such as Sara Navarro, Enrique Ponce, Joaquín Berao, Ainhoa Arteta, Manolo Valdés, Pau Gasol, Alejandro Sanz, Fernando Alonso, Roberto Verino and Raphael, Álex de la Iglesia, Sara Baras, Juan Eslava Galán and Juan Echanove.
This time, rally driver Carlos Sainz has created a new label on which he wanted to embody the idea that hard work and sacrifice lead to success. 'I've always believed in the spirit of achievement and in the importance of courage. First Day of Harvest is, without a doubt, an example of this and of extraordinary effort,' the World Rally Champion stated firmly.
A natural sportsman – he was just 16 when he won the Spanish Squash Championship – he not only loves but also excels in many sports. But it is in the world of rally driving where he has been internationally recognised as the best driver ever. Carlos Sainz was World Rally Champion in 1990 and 1992. In 2010, this living legend became even bigger when he won the Dakar Rally with Volkswagen, and in 2018 winning with Peugeot.
More recently, in 2020, he attained another two victories when he came first in the new era of the Dakar Rally in Saudi Arabia, and then received the Princess of Asturias 2020 Award for Sports.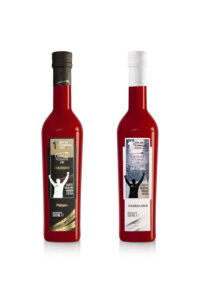 'As I have often said throughout my life, I've been lucky to have been able to devote myself to what is my passion, and to enjoy every race. I can see that the Vañó family has this same passion for its olive groves, always searching for excellence for its highly-acclaimed extra virgin olive oils,' explains Carlos Sainz.
First Day of Harvest is the excellent result of a yearlong effort by the grower and is a tribute to the mystique of the first juices obtained from the harvest with all the magic and joy it embodies. Year after year, consistently exceptional extra virgin olive oils of seamless quality are produced.
'Since this concept came into being in 2006, our goal has always been that the person commissioned to create the design for the bottle's label share the same values of excellence, perseverance and effort  for work well done. Carlos Sainz's career is based on constancy, achievement, work and excellence in sport. Qualities that dovetail with our philosophy and know-how,' stresses Rosa Vañó, Castillo de Canena's Sales and Marketing Director.
Castillo de Canena's first CSR Report
Rally driver Carlos Sainz's design for the 15th First Day of Harvest limited edition, coincides with the presentation of Castillo de Canena's first Corporate Social Responsibility Report and its firm commitment to sustainability and environmental protection following its joining the United Nations Global Compact.
'Castillo de Canena was a pioneer when it came to having our Carbon and Water Footprints certified by an external entity. We also blazed a trail in our sector when we were audited for the first certified European CSR standard (SGE-21), and did so again when we joined the United Nations Global Compact, agreeing to adhere to their principles and to contribute to reaching the broadest sustainable development goals set in the 2030 Agenda,' summed up Castillo de Canena's General Manager.
With this in mind, our corporate vision will focus on continuing to improve mainly on the company's contribution to four sustainable development goals: Health and Well-being (we produce natural oils that are wholesome and healthy), Industry, Innovation and Infrastructure (we seek excellence in our processes via Research and Innovation), Responsible Production and Consumption and Life on Land (our aim is to strike a balance between economic development and sustainable development).
The best olives at the optimum moment of ripeness
Castillo de Canena meticulously oversees the entire selection process of the best Arbequina and Picual olive varieties that are harvested at their optimum moment of ripeness.
'This agricultural year the phenological state of the olive trees was early and could be seen practically from the moment of fruit set. The harvest was brought forward by around ten days compared to the average of recent years,' stated Francisco Vañó, who pointed out that 'it has been an average to high harvest, with medium sized fruit with a very homogeneous veraison across the different terroirs. High temperatures at the beginning of October meant making a special effort in terms of refrigeration, while the rain we had mid-month hydrated the fruit and delayed veraison.'
The First Day of Harvest Picual is a very expressive oil and is vivid green in colour. It has a powerful fruitiness with notes of green grass, green almond, green banana and vegetables that give it great complexity and an abundance of personality that is markedly harmonious. The flavour is intense and complex from the start with a predominance of green almond, green grass, banana peel, artichoke stem and green tomato. Its slight bitterness and piquancy are well integrated and very balanced. In the mouth it has a certain astringency with a pleasant lasting taste, and a fresh minty aftertaste.
First Day of Harvest Arbequina has aromas of fresh green olives that stand out together with fruity notes – a bright green oil with flashes of gold. On the nose the aromas are of green grass, plant stalks, unripe and ripe fruit, artichoke and green almond. In the mouth it is very pleasant and smooth, quickly offering sensations that reveal green fruity notes, with the freshness of grass, walnut shell, green almond and green banana compote combined with the sweetness of red apple predominating. The aftertaste is very harmonious and elegant, with a good balance of bitterness and piquancy that quickly fade.
Francisco Vañó adds, 'First Day of Harvest – both Arbequina and Picual – are oils from specially chosen terroirs selected from those on our farm. "Cañada Luenga Centro" in the case of First Day Picual, and "Pago Los Girasoles" for First Day Arbequina".' Exactly the same areas where the 2019 First Day of Harvest oils were from last year.
This 15th edition of Castillo de Canena's First Day of Harvest will be available in over 50 countries – mainly in Europe, the United States, Latin America, Japan and Australia – thus consolidating itself as some of the best extra virgin olive oils in the world thanks to the continuous recognition they have garnered from day one.
Castillo de Canena's land, where its olive trees grow, is in the county of Úbeda in the province of Jaén, adjacent to the Sierra de Cazorla and in the heart of the Alto Guadalquivir Valley. The olive trees grow in loamy soil on slightly hilly land of gentle landscapes and at an average altitude of 500 metres above sea level. The groves are farmed semi-intensively and traditionally, and include varietals like Picual, Arbequina and Royal, as well as new olive cultivars, such as Pico Limon, Zarza, Taggiasca, Don Carlo, Souriani and Zaity; these are irrigated, creating a natural ecosystem where farming is done with a deep respect for the environment and nature. Modern precision agriculture and the most advanced systems for measuring the various phenological factors of the trees – which allows the evolution of the different plots to be monitored – are combined with groundcover, composting, landscape recovery, the reintroduction of endangered species and zero use of any type of pesticide.    
With an olive-growing tradition that dates back to the end of the 18th century, in 2003 the Vañó family – owners of the beautiful Renaissance castle that gives its name to the company – decided to create their own brand focused exclusively on producing and marketing Premium EVOOs. Controlling the organic development of the olive trees and the evolution of the fruit, they select the best terroirs on the farm, harvesting the olives at the moment of perfect veraison, sending them swiftly in small crates to their own oil press, which has garnered a large number of external quality certifications for both processes and products. There, the olives are pressed using the latest technology, which is continuously updated, maintaining the cold chain throughout the process and producing extremely high-quality EVOOs repeatedly and year after year. Intensely fruity oils with powerful personalities that are harmonious and balanced.
Constant innovation – a feature that perfectly defines Castillo de Canena's path – is not only reflected in their farming activity or in the fullest use of modernisation for their industrial processes, but it is also reflected in their search for new, original and surprising products; these revolve around EVOOs, expanding the ways in which they can be used and added to myriad culinary creations. The company, which has grown substantially internationally, is present in over 50 markets; it was one of the first companies in its sector to audit its corporate policies in terms of Social Responsibility via FORÉTICA's SGE-21 certification standard.