Yesterday we attended to GAULAS presentation, the gastronomic consultancy project of excellent professional taster and friend Santiago Botas. We are very pleased that our sector have a professional of such high magnitude as Santiago Botas, who has decided to put even more value to his contribution, through this ambitious project that we are fully think that will mark a before and after for the sector olive oil.
The event began with Ismael Diaz Yubero, who briefly referred to Santiago Botas's exquisite career related to olive oil, both within and outside Spain. After some touching words of the author of the project, Santiago Botas, he surprised us with great news … he will prepare a documentary based on the EVOO together with the Spanish film director Jose Luis López-Linares! This director is also specialized in documentaries related to gastronomy, another of his passions, as are "Jerez & el Misterio del Palo" or "The Chicken, the Fish and the King Crab" … we can not wait to see it done!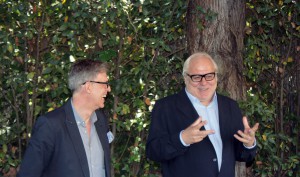 Renowned personalities from Spanish gastronomic scene attendet to the event; as María Jesús Gil de Antuñano, Ismael Diaz Yubero, Clara Maria Gonzalez de Amezúa, Juan Vicente Gómez Moya, Juan Ramón Izquierdo or Alonso Alvarez de Toledo, among others.
Furthermore, Santiago Botas had more than 20 EVOOs for attendance to taste. At the end of the presentation, we could enjoy tasting wonderful products such as La Antigua cheeses, Alta Pavina wines, vermouth Arlini, hams Blazquez, Vacum meat's tartar, Triticum breads or Movenpick ice creams; in addition to the provision of all of them over the highest quality accessories by Klimer. A whole delight!