Due to the situation created by the pandemic that we all are suffering, the award ceremony of the V Edition of the International Prize Castillo de Canena of olive oil research "Luis Vañó"  was different from the one of the previous years. Instead of the traditional event at the family's castle with numerous guests, the organizers chose to hold a simple ceremony at the Noor restaurant in Córdoba on October 8th.
Only the three authors of the winning paper in the V version were present: María Benlloch Gonzalez, Manuel Benlloch Marín and Ricardo Fernandez-Escobar, all of them belonging to the Department of Agronomy of the E.T.S. de Ingenieros Agrónomos of the University of Córdoba. Moreover, the President of the Evaluation Jury and the Rector of the University of Jaén, Juan Gómez Ortega and the directors of the Jaén-based oil company Rosa and Francisco Vañó.
During the event, the important contributions made by the researchers in their award-winning work to analyze such an important phenomenon as the influence of climate change on the vegetative cycles of the olive tree were highlighted. Thanks to this interesting study called  "Effect of global warming on the phenology of the olive tree" it will be possible to take corrective measures and to anticipate the negative effects that the increases of the average temperatures in the countries of the Mediterranean Basin will have on the olive groves.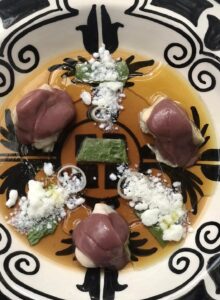 Both by the Rector Magnificent and President of the Jury and by the winners of the Prize, endowed with EUR 6,000 and a commemorative plaque, the important support that Castillo de Canena is giving to the research and study of the olive tree and of the EVOO from a multidisciplinary perspective was highlighted and materialized fundamentally in the creation of this important award that celebrates 10 years since it was instituted.
After the institutional event, the attendees enjoyed a carefully prepared menu by Paco Morales, chef and owner of the restaurant Noor, whose dishes include natural oysters with a gelée of suckling lamb with Kefir seasoned with the EVOO  limited edition that Castillo de Canena creates each year for the chef from Cordoba with a blend of different varieties from Syria, Tunisia and Palestine.