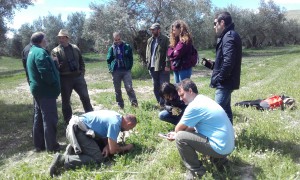 Some days ago, the Seo Birdlife team visited our farm. Mr.Jose Eugenio Gutierrez, (Territorial Delegate of Andalusia), Mr.Carlos Ruiz (Technical of the Life Olive Gorves Project), Mr.Ramón Martí (Director of Territorial Coordination) together two technicians from the company Idom, (international professional services firm of engineering, architecture and consulting), which together with experts from the CSIC & the University of Jaen, make counseling and support for Life projects, contracted by the European Commission.
The team, counted the number of birds, amphibians, insects & flora in our olive grove, as part of the Life-Biodehesas Project. As you know, some time ago we signed an agreement with SEO BirdLife that involves a series of actions, which establish the guidelines to promote biodiversity in our olive groves.
It's important to remark that these measurements will be held monthly, so we will have very detailed information on the development of our olive grove biodiversity!
May 2016