Ingredients
1 kg flour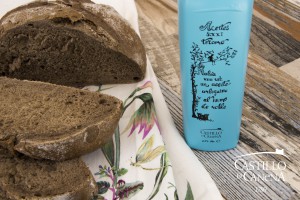 4 teaspoons active dry yeast
2 teaspoons salt
3 teaspoons sugar
60 g butter
½ kg maca powder
200 g  onion
60 ml milk
3 eggs
Olive Oil Oak Smoked Arbequino (our smoked olive oil, The Blue bottle!)
 Preparation
Dice the onion.
Sift the flour and add sugar, salt and yeast. When dry ingredients are mixed, add melted butter and Castillo de Canena oak smoked Arbequina olive oil.
Add the maca and onion. Add the milk and eggs bit by bit until a soft but not sticky dough forms.
With your hands, roll dough into balls and set aside for 40 minutes. When the dough balls have doubled in size, shape them with flour into small buns.
Bake for 30 minutes at medium heat. Enjoy it!