Ingredients
1/2 chopped onion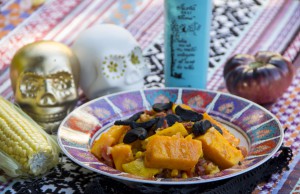 1 teaspoon finely chopped garlic
3 tomatoes
Minced diced pumpkin
1 cup corn bean
½ cup diced ham
Salt
Sour cream
Cheese
Castillo de Canena Arbequina Oak Smoked Olive Oil
Preparation
Sauté the onion in a frying pan until it changes color, add the garlic and chopped tomatoes. Cook for 5 minutes.
Add the pumpkin and cook for 10 more minutes. Add the corn and ham, cook for 5 more minutes and season with salt to taste.
Serve with sour cream and cheese. Finish with a jet of Castillo de Canena Arbequino Oak Smoked olive oil.