Ingredients: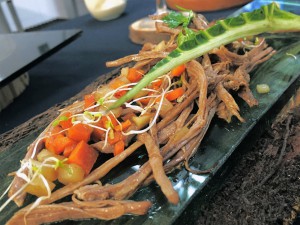 Brisket
Alpha potatoes
Carrot
Coriander
Purple Onion
Maggi sauce
English sauce
Salt and pepper
Family Reserve Picual EVOO
Preparation:
1. Cook and shred the meat.
2. Cut the potatoes and carrots into small cubes.
3. Rinse and reserve.
4. Combine the meat with the vegetable.
5. Add coriander and chopped onion.
6. Finally season with extra virgin olive oil Family Reserve Picual, english sauce, maggi sauce, salt and pepper.