INGREDIENTS
Potatoes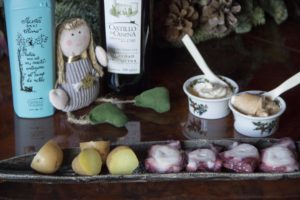 Octopus
Oak Smoked arbequina olive oil
Paprika
2 Eggs
Vinegar
Salt
PREPARATION
Cut the potatoes in bricks or cubes and the octopus in not too thin slices.
Prepare two kind of mayonnaise:
Mayonnaise with smoked touch: put one of the eggs yolk  in a narrow container, add some drops of vinegar and our
smoked olive oil (the blue bottle)
taking care not to break the yolk
.
Whisk the yolk with a blender and start to get up the blender smoothly until the mix gets emulsified. Finally rectify with salt if we consider it needs it.
Mayonnaise with paprika: same procedure as in the previous mayounnaise but replacing the smoked olive oil with our EVOO Family Reserve arbequina and add  paprika.