For today, the Tapa's International Day or just for this weekend, we suggest not to waste a lot of time at the kitchen !!
These are fun, healthy, original, fast and very surprising tapas recipes! Choose good ingredients such as Frinsa, Real Conservera or Jose Peña canned food, among others. Of course, also  you should have our smoked oil (Oak Smoked Arbequina, the blue bottle) and Arbequina&Co (99.5% Arbequina Castillo de Canena EVOO + natural essential oils from different plants, fruits and flowers). And, the funny touch of Gin Mare, Martini or Johny Walker!
Here some of the proposals that have delighted our guests: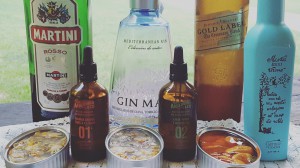 Canned cockles, just add some Gin Mare gin and a citrus touch thanks to our oil Arbequina&Co 02
Canned cockles, add some Martini Rosso and a mediterranean touch thanks to some drops of our oil Arbequina&Co 01
Natural tinned mussels with Johny Walker and a smoky touch by adding a few drops of our smoked oil (blue bottle!)
Do you want to try?