We keep developing togethe with Olivares Vivos many actions in favor of environmental sustainability and the improvement of our Environment. As part of these measures we had installed shelters for bats in different corners of our farm and now it is time to take care of the owls.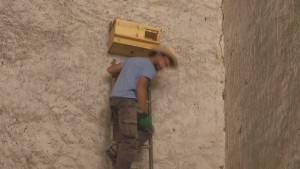 Cortijo Guadiana is the only farm in our country in which a re-introduction technique (called Hacking) will be carried out. This is possible thanks to its own characteristics, such as environmental characteristics, architecture and also in relation to the corroborated fauna that is housed here (moles, rodents …). Finally, it is concluded that in our farm the owl can be properly developed, only lacking a natural shelter that is what we are already provided thanks to the installation of these nest boxes.
The Hacking consists of introducing owl breeding, which still does not fly alone, in boxes that simulate artificial nests as you can see in the photo. These owls breeding will be fed through a special structure so that they do not relate to or "get used to" humans. Little by little the hatchlings will leave the nest and in 10-15 days they may be hunting for themselves and will nest in the future in our farm, naturally in their own right.