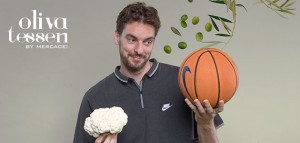 This month Mercacei magazine published the interview they did to the great basketball player Pau Gasol. We are proud that an athlete of  his "height" as Pau Gasol support our extra virgin olive oil sector and even more … consuming our oils! A few years ago we had the support of Gasol, when in 2011 he designed the label of our First Day of Harvest.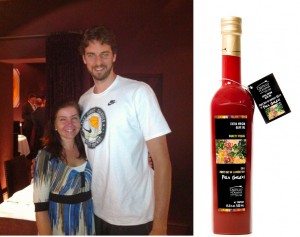 Here is an extract from the interview:
Gasol no es un jugador al uso. Sus labores filantrópicas son casi tan famosas como sus tapones. Desde que fundó -junto a su hermano Marc- la Fundación Gasol, el deportista catalán centra su tiempo fuera de la cancha en promover una alimentación saludable entre los niños estadounidenses y españoles. Amante de la gastronomía tradicional de su tierra, es muy probable que todo el aceite de oliva que tomó desde pequeño haya tenido algo que ver en sus 2,13 m. de estatura…
What is your first memory involving olive oil? Was it used in your house? Would they talk about this product at home?
I can't remember my first memory of it, but yes, we very much so used olive oil, both in salads as in all other dishes. It has always been very present at our home.
The most famous olive varietal native to Catalonia is the arbequina. Nowadays, Premium EVOOs have also included this varietal in their product catalogue. Do you know of it? Do you like it?
Yes, of course, I love it. I know Castillo de Canena well and I think it´s one of the best in the world. I use it for my favorite meals, although only occasionally as it isn't an oil to use on any old recipe. You have to know what dish to pair it with to appreciate it fully.
What are your favorite varietals or brands?
Arbequina is probably my preference and Castillo de Canena is one of my favorite olive oils, if not my favorite.
Rosa Vañó, Marketing Director of Castillo de Canena, defines EVOO as the culinary revolution of the 21st century. Do you agree with this statement?
I could not agree more with our friend Rosa. Olive oil has been a wonderful gastronomic revolution.
Read here the entire interview: http://en.mercacei.com/noticia/1261/news/pau-gasol-nba-player-and-evoo-lover:-the-concept-of-olive-oil-is-very-present-among-nba-players-and-in-american-culture.html
March 2016