Ingredients
A bunch of basil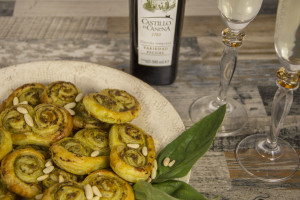 Puff pastry
100gr pine nuts
Grated Parmesan
Sugar
2 cloves of garlic
Elaboration
Prepare the pesto mixing in a blender the bunch of basil with pine nuts, garlic, parmesan and Family Reserve Picual extra virgin olive oil.
Place the puff pastry extended on a squared plate and cover with a layer of pesto. Roll the pastry from the longest edges to the middle; this way we will get two rolls on each side that will allow us to prepare the heart-shaped pastry later.
Place in the fridge for cooling during 1hour.
Take out of the fridge and cut the rings of the roll, about 1cm each. Brush the heart-shaped pastry with egg and sugar and optionally sprinkle with parmesan.
Place in the oven until your pastry gets golden and serve with cava or champagne.
Click here for the entire menu!