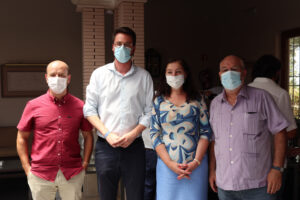 Our commercial director, Rosa Vañó, appointed as the new president of the Andalusian Academy of Gastronomy and Tourism (AAGT).
We share with you a fragment of an interesting interview in AGRO MAGAZINE.
** You can find the original one at the following link: Interview with Rosa Vañó by Agro Magazine.
"Andalusia is pure gastronomy and tourism, and you have to know how to position it and communicate it."
Accustomed to leading large organizations such as her own mill, Castillo de Canena, how do you face having become the new president of the AAGT?
I am very fortunate to have an academy that has been led by Fernando Huidobro throughout this time with an excellent track record. I have found a solid academy, a recognized and well-known academy, an academy that already has a history and which has carried out many things that will help me continue building.
From my side, I would love to continue supporting restaurants and hotels and, on the other hand, continue integrating and involving more institutional and teaching bodies. For example, I am talking about working with all universities in a more proactive way. There are some universities with which we have worked a lot, such as those in Córdoba and Granada, but there are others with which we have not worked too much. I think this is a very interesting point, especially from the training perspective, also in the hotel and catering schools.
What are the main objectives of the Andalusian Academy of Gastronomy and Tourism for these sectors?
We have to combine both sectors in a more proactive way. This is one of the projects that I would like to carry out. A project that is not only positive for these sectors individually, but also creates solid foundations, ensuring that the offer in Andalusia goes beyond beach tourism or inland tourism. We would like gastronomy to mark us as a destination, as an itinerary, as an aspirational focus of visit. We are one of the regions of Spain with the greatest diversity and offer, and a greater differentiation, since we have an endless number of wines, coastal products, hams, cheeses, fruits and vegetables, etc. The wealth that we have is unstoppable, and this is just what must be revealed and be able to communicate: to become an agrotourism destination, or a gastronomic-agrotourism destination with a strength that will be consolidated over the years.
What do Andalusian gastronomy and tourism represent for you?
These sectors are our truest economic and future power. We have to be aware of what we were talking about before, the great differentiation that we have and that it is necessary to reveal, exploit and communicate much more. Andalusia is tourism and gastronomy, this is its DNA. It is true that we have many strengths but if we had to summarize them, these would be the two most representative. You have to know how to communicate it in order to be considered a great tourist and gastronomic destination.