And we keep taking care of your self with our EVOO!
Here an healthy and refreshing smoothie made with a delicious combination of fruits and vegetables. We will add a plus of healthy properties & a special touch of lemon, fennel and mint thanks of our olive oil Arbequina&Co 02 (99.5% Arbequina EVOO Castillo de Canena & natural essential oils from different flowers, plants and fruits)
Ingredients
1/2 Avocado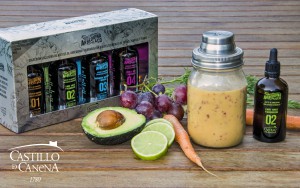 1 Carrot
5 Red grapes
1/2 Lime
1 Tomato
Water
Preparation
Cut the fruits and vegetables and place them in a blender. Then add water, the lime juice and a few drops of our olive oil Arbequina&Co 02.
Mix thoroughly until you get a softy drink. Serve it cold.
Enjoy!