Ingredients
Spaghetti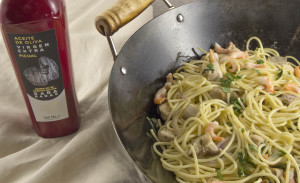 Chicken breast
Shrimp
Coriander
Lime
Fresh ginger
First Day of Harvest Picual EVOO
Purple
Onion
Shitaki mushrooms
Elaboration
We cook the noodles according to the instructions.
On the other hand, we cut the chicken breast into cubes, as well as the purple onion and together with the shrimp and mushrooms, we put everything in the wok (including the previously cooked noodles).
We finished with our First Day of Harvest Picual extra virgin olive oil a piece of grated ginger and the juice of the lime.