In summer you can taste your EVOO in the most simple and fresh recipes that you can imagine!
Ingredients: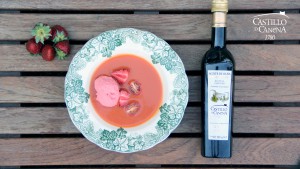 – 500 grams strawberries
– 500 grams ripe tomato
– 50 grams red pepper
– 1 clove of garlic
– 1 tablespoon sherry vinegar
– Salt
– 50 ml Castillo de Canena Reserva Familiar Picual extra virgin olive oil
Preparation:
Put all ingredients in a blender and blend thoroughly. Remove stems from the tomatoes and strawberries, the heart from the garlic clove and the seeds from the pepper.
Add salt, pepper and vinegar to taste.
Strain the strawberry gazpacho through a sieve to make it smooth. Chill in the refrigerator.
Serve gazpacho in cups and a drizzle of EVOO Castillo de Canena Family Reserve Picual.