Today we share with you a very special recipe prepared with our oils by Concha Bernard (blog Cocina y Aficiones) … we are delighted! On this occasion, Concha surprises us with some delicious stuffed apples that can be served as an appetizer or as first course. They have the special touch of our latest project of oils Arbequina& Co!
Ingredients for four people
4 small apples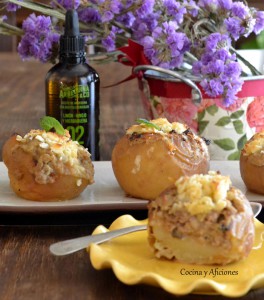 1 acid apple
2 lemons
1 teaspoon sugar cane
For the filling: 1/2 kg of minced meat mixture of pork and beef, 1 egg, 200 g of mushrooms, 100 g of bacon, nutmeg, coriander, green Sichuan pepper, chili powder, rosemary and dried oregano , 1 glass of white wine, 1 glass of cognac.
For the top: flaked almonds, 1 tablespoon of flour, 100 g of very cold butter.
Preparation
Heat the oven to 200°C.
1.- Empty the 4 apples, leaving a not very thin wall of 1-2 cm. Reserve the pulp. Water the empty apples with lemon juice so they do not rust. Place in the oven to 180 °C, and let them roast.
2.- Wash and peel the acid apple (keep the skin). Together, the skins, the chopped apple & sugar cane, cover with water and fire until the apple is soft. Remove the skin and put the apple in a stainer in order to obtain a fine puree. Reserve.
3.- Sauté the mushrooms with the bacon, then flambé with cognac and white wine.
4.- Add salt, pepper & the rest of spices to the meat. Mix well. Place in a bowl together with the egg, mushrooms with bacon, the apple puree & 30 drops of Arbequina&Co 02 (99.5% Arbequina EVOO + essential oils of lemon, fennel and mint). Mix well.
5.- Fill apples.
6.-Prepare the topping by mixing the flour with the butter (cut into cubes and very cold) & the almonds. Place over the apples.
7.- Place the apples in the oven to 180 ºC during 10 minutes approx, just to have a golden crumble.
Enjoy!
May 2016