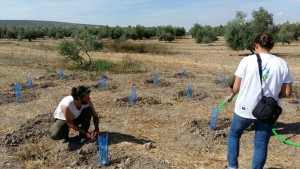 We remain committed to environmental sustainability and the improvement of the environment. This is the reason why we are involved in the LIFE Project "Olivares Vivos" (Alive Olive Groves) in collaboration with SEO-BirldLife. This project will last 3 years and it includes many actions with the aim of enhancing biodiversity, encouraging nesting of birds, being the refuge of faunal species and increase the interrelation of birds with the natural environment. At the same time, these measures will contribute to the restoration of the equilibrium of the food chain.
Last October, and for 6 days, the first actions took place. We started with the reforestation of arboreal and shrub species of Mediterranean climate such as lavender, populus, broom, tamarix cistus … that will protect the different types of birds in the olive grove.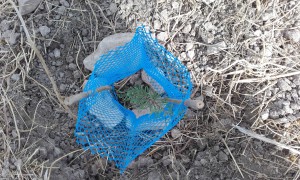 These works are being developed by a group of 8 volunteers from the province of Jaen and other provinces of Andalusia, under the direction of SEOBirdLife technicians.
The following actions are planned for March 2017. If you want to be a volunteer, there are 2 remaining places! You can send us your application and work with us in March. You do not need previous experience, just illusion and desire to put your grain of sand in favor of our Living Olive Trees!