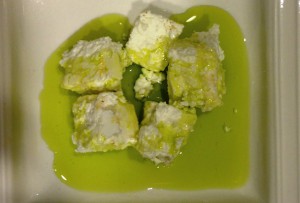 For the people who these days were many hours in the kitchen and need a break or … just for those who want a quick appetizer before having lunch, we present a simple snack that Jose Carlos Capel, food critic in the Spanish newspaper El País, proposes.
We just need some good fresh goat cheese and one of our Extra Virgin Olive Oil Castillo Canena. In this case, Capel has decided to use our Early Royal. You have to cut the goat cheese and then, add some of our EVOO!
Another fast proposal by Capel is to finish a home-made pizza with our Oak Smoked Arbequino! It will surprise you!
Bon appetit!
December 2014