* This rich salad is a light, fresh, yet fulfilling meal which can be enjoyed for lunch or dinner. The high water content in lettuce improves the hydration of your body and the whole dish offers you a complete combination of protein, fiber and carbohydrates.
Crickets are a great protein source, rich in essential amino acids. They also have omega 3 and 6 fatty acids, and are high in calcium and vitamin B12.
Anchovies are rich in omega 3 fatty acids, they are a good source of thiamin, riboflavin, niacin, folate, vitamin C, B12, B6, A, E, and K, as well as calcium, iron, magnesium, phosphorus, potassium, sodium, and zinc.
INGREDIENTS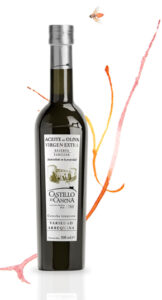 400 g = 14 oz Lettuce Variety (rucola, lollo bionda, lollo rossa, romaine, endive)
100 g = 3 1/2 oz Radicchio
20 g = 3/4 oz Crickets or cricket flour
10 g = 1/3 oz Anchovies
200 g = 7 oz Tomatoes
90 g = 3 oz Beetroot
90 g = 3 oz Fennel
2 Avocados
20 g = 3/4 oz Walnuts
To taste – Flax seed powder (freshly ground; optional)
To taste – Kale powder (optional)
To taste – Spirulina (optional)
Extra virgin olive oil: Castillo de Canena Family Reserve Picual or Arbequino
Delicately Smoked
To taste – Apple cider vinegar
To taste – Salt
PREPARATION
Chop and slice the ingredients to your liking. Combine them in a large bowl and season to taste.
Assemble the dish as in the photo or to your liking.