Soufflé is one of the masterpieces of the French cuisine. It's hard to master, but the results are extremely rewarding. The fluffy and delicate consistency will reward all your efforts.
My Rice, Apricot & Rose soufflé is a tribute to this wonderful dish. Rice flour is a very good, light and gluten-free base for the Soufflé.
Coconut sugar is one of the best and least processed sugars available. It's made from the sap
collected from the flowers of the coconut palm tree.
INGREDIENTS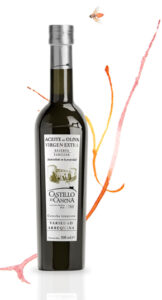 200 g – 70 oz Rice flour
70 g – 2½ oz Apricots (peeled)
30 g – 1 oz Coconut sugar
4 Eggs (separate yolks from whites)
20 ml – 1⅓ tbsp Rose water
To taste – Salt
To taste – Almond crushed (for garnishing; optional)
To taste – Coconut flakes (for garnishing; optional)
Extra virgin olive oil: Castillo de Canena Reserve Arbequina
PREPARATION
Pre-heat the oven on dry setting at 180°C (360°F). Puree the apricots in a blender. Make a roux with olive oil and rice flour.
Remove from the fire and add egg yolks rapidly incorporating everything. Mix rose water with coconut sugar and it to the main mix. Incorporate homogeneously everything. Whip the egg whites with a pinch of salt.
When the main mix has cooled down, proceed to incorporate the whipped egg whites, folding them with a movement from the bottom to the top and repeat the operation until obtaining a homogeneous mix. Do not whisk; air will be lost and the Soufflé won't rise.
Grease the ramekins with olive oil and add almonds and coconut flakes (optionally). Pour the Soufflé mix into the ramekins and place them into the oven cooking for 20-30 minutes, depending on how fast they rice.
Once they are ready, take them fast, but very carefully out of the oven. Assemble the dish as in the photo or to your liking.
*Tip: Don't open the oven during the baking process, otherwise the air will flow into the oven
and you will never obtain the desired rising Soufflé effect.