Castillo de Canena presents its Arbequina & Harissa oil, a burst of balanced, piquant, fresh flavour
The company has created its own special, unique Harissa sauce recipe (made with dried red peppers, cayenne, garlic, coriander and caraway seeds), and superbly blended it with its Arbequina oil
The aromas and flavours of this spice mix are combined in perfect harmony with a base of exceptional, extra virgin Arbequina olive oil, which is both fruity and grassy
Harissa sauce is the cornerstone of North African Mediterranean cuisine. Today, its growing popularity in Europe, Asia and the United States has made it an essential condiment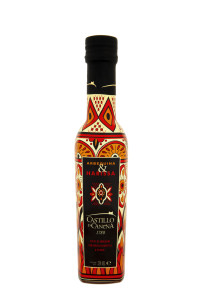 Always on the cutting edge when it comes to creating new and innovative oils of the best organoleptic quality, Castillo de Canena presents its Arbequina & Harissa extra virgin olive oil. To achieve this, the company created its own original and surprising Harissa sauce recipe (made with dried red peppers, cayenne, garlic, coriander and caraway seeds) which is infused in its best extra virgin Arbequina olive oils.
'We have carried out a lot of in-depth research into the world of harissa, and the tradition and uses of the various hot chillies linked to Mediterranean culture. We have come up with a special and unique variation of this condiment which greatly enhances – from a sensory point of view – the fruitiness and hints of grassiness of extra virgin Arbequina olive oil, offering exceptional piquancy and freshness in the mouth,' says Francisco Vañó, General Manager of Castillo de Canena.
This new Arbequina & Harissa oil is notable for its fluidity, balance and freshness. The pungent, toasted aroma of the cayenne is perceived first, followed by the flavour of other ingredients and spices, among which garlic, coriander and caraway can be instantly identified. This is enhanced and accentuated by discerningly combining it with the green, fruity aromas of the juice of fresh Arbequina olives.
Harissa and its history
Harissa – which comes from the Arabic verb harasa, meaning 'to hit' or 'to break into pieces' – is the cornerstone of North African Mediterranean cuisine. Today, its growing popularity in Europe and Asia has made this condiment an essential ingredient for giving flavour and an exotic touch to any dish.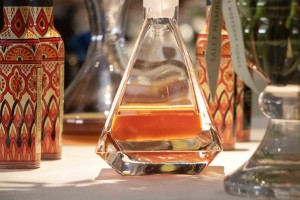 Traditionally, harissa has been closely linked to the region of the Maghreb; the most north-eastern coast of Africa which is bathed by the Mediterranean Sea, and includes countries such as, Tunisia, Morocco, Algeria and Libya.
Harissa has been at the heart of Maghrebi cuisine ever since peppers were introduced to Europe by the 16th-century explorers of the New World, who encountered them in Mexico and Peru. Chillies journeyed to North Africa together with Spanish colonisers and travelling spice merchants, and began to appear in souks where spices were then added and harissa sauce was adapted to each local cuisine.
'In the region of the Maghreb, along the Mediterranean, rows of gnarled olive trees grow alongside vineyards and fields of melons and tomatoes, and, in particular, cultivated peppers. Following this tradition, we wanted to develop a unique product with hundreds of uses, one which adds depth and a piquant complexity to any dish,' explains Rosa Vañó, Sales and Marketing Director of Castillo de Canena.
In the United States, harissa has quickly become very popular as an original, exotic and delicious condiment as it is a dynamic ingredient that enhances the taste of any dish.
Recommended uses are as a seasoning for mayonnaise, tartares, ceviches, char-grilled fish, seafood salads, couscous, tajines, patatas bravas, vinaigrettes, stews, among others. It the United States it is notably used for barbecues, hamburgers, chicken wings, sandwiches, baked potatoes and corn, etc.
'We wanted to reflect the exotic side of this very special product in the design of the bottle as well. It is, therefore, the first time that we have used a sleeve that completely surrounds the bottle, creating a pattern which is reminiscent of the red and orange tiles found in the Arab world, and thus evoking the colour of the oil and of the harissa itself,' Rosa Vañó points out.
21st-Century Oils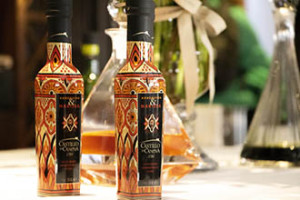 Belonging to the exclusive 21st-Century Oils Collection, these new reddish-orange oils are made using the best harvesting, extraction and storage methods. A maximum of three hours passes from when the olives are harvested to when they are pressed, and as a cold-extraction process is used – involving a two-step system – the best quality is achieved for these new oils that are infused with harissa.
21st-Century Oils represents a line which seeks to offer different concepts and new ideas to a category of products embodying over 3,000 years of history. It is thus an exceptional sensory experience for your palate, allowing you to enjoy and delight in innovative oils which will surprise you thanks to their originality, distinctness, and because they offer the highest standards of quality.
Following the first oil, Early Royal, the second one, called Horizontal Tasting, was presented (the same varietal – Arbequina – from olives harvested during three consecutive months: October, November and December). Next came the third, Oak-Smoked Arbequina Oil and, lastly, Biodynamic Picual and Biodynamic Arbequina.