We were in the Ars Vivendi restaurant where the great chef and Top Chef contestant, Maria Rosa Garcia,  delighted us with her wonderful culinary creations.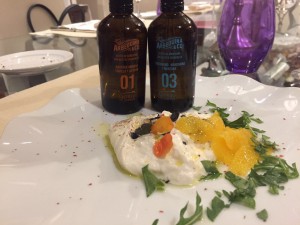 Rosa and her husband Dino are charming! … They surprised us with their fine Italian cuisine and a delicious burrata with orange, arugula and the magic touch of our Arbequina & Co (99.5% AOVE Arbequina Castillo de Canena and natural essential oils From flowers, plants and fruits).
These are other of their dishes …
We encourage you to visit the restaurant!