We have cut back our greenhouse gas emissions by nearly 30%
Since our most recent Carbon Footprint Certification, we have cut back our greenhouse gas emissions by nearly 30%. We can attribute this to, among other factors, the use of compost as natural fertilizer; the use of pruning waste biomass to produce clean electricity; the maximisation of water resources and subsequent energy savings; the reduction of tractor operation time as a result of stopping the use of herbicides in pro of organic cover; and the reforestation process initiated in November 2012 with autochthonous Iberian species.
Since 2011, when the auditing firm Det Norske Veritas (DNV) certified the quantity of carbon dioxide emissions released into the atmosphere in the production of one bottle of our Extra Virgin Olive Oils, Castillo de Canena has been able to control its carbon footprint and make a commitment to reducing this amount year to year.
In this same line, our solid commitment to uniting the excellent quality of our olive oils with practices that safeguard the environment has earned us Water Footprint Certification.
Attaining EPD Certification
At Castillo de Canena, we believe in the importance of backing the publicity of our environmental commitment with independent third party verification. We have opted for an accreditation scheme with great prestige and international recognition: the Type III Environmental Declarations Programme of The International EPD® System.
We've been awarded an EPD (Environmental Product Declaration) for our olive oils, with the corresponding Environdec registration ( http://environdec.com/en/Detail/?Epd=8763).
An EPD is a certified environmental declaration based on the international ISO 14025 (Type III environmental declarations). This well-established international scheme boasts wide experience informing on the environmental properties of products, including those from the food industry.
On a practical level, the process culminates in the drafting of a final document, commonly known as the 'EPD', in following with the ISO 14025 Standard, monitored by the International EPD System, and consequently published on its web www.environdec.com.
Our Environmental Commitment
At Castillo de Canena, we are able to monitor our Carbon Footprint and now, our Water Footprint. This involved extensive field work. It began with a detailed, quantified analysis of all the agricultural work carried out at the estate. Later, stock was taken of the resources consumed in the industrial treatment of olives to obtain the oil and lastly, life cycles were measured of the auxiliary materials needed to market each bottle.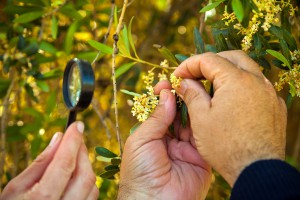 We can state that at Castillo de Canena our very direct supervision and follow up of each of the links in the value chain have made the gauging and quantification of emissions during the auditing process especially precise.
Moreover, we have a compost production plant that reuses our own olive waste and residue. The plant waste obtained from the pruning and harvest are carefully collected from the fields and packed and transported to thermal power plants where they used to either produce electricity or pellets.
Additionally, since 2007 we have three photovoltaic energy plants of 100 Kw each to supply our own electricity for the estate. Lastly, there are nine precision farming weather stations to monitor the variations in tree trunk diameter, climate and soil conditions, and area humidity in order to maximise the water resources available to water our trees.