We are one of the 5 companies awarded!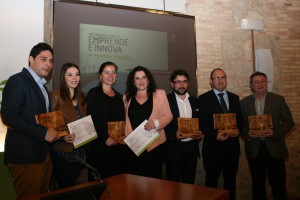 Council of Jaén delivers the XV Awards to Innovation & Enterprising of Sustainable Development, in recognition of business projects that promote sustainability.
Deputy of Employment, Promotion and Tourism, Angeles Férriz; Deputy of Equality, María del Mar Shaw, and Deputy of Youth, Francisca Molina, they have handed the awards to the five companies awarded: Smart Materials 3D Printing SL; Marwen Calsan S.L. ; Castillo de Canena Olive Juice SL, in the category of female entrepreneurship; Artisan Cheese Cumbres de Segura, as a young company, and Interóleo Picual Jaen SA.
They have underlined that these awards pretend to recognize "the project, the path and experience of these initiatives."
Meanwhile, Angels Férriz, highlighted the work of Rosa Vañó, Commercial Manager of Castillo de Canena, because since its founding, "she has opened roads and has banished the myth that women can't occupy positions of responsibility, even in a sector as complex as the oil is".
Thank you very much!
December 2014