INGREDIENTS
1kg beef sirloin or 800gr t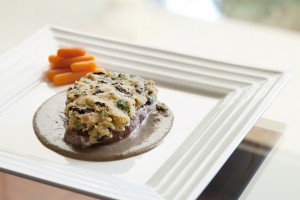 enderloin
½ package of kadaif
Cover of olives:
16 teaspoons breadcrumbs
2 tsp chopped parsley
2 tsp dijon mustard, reduced with mayonnaise
120 ml Family Reserve Picual EVOO
60g black olives from Aragon
40 g of almond powder
Chopped rosemary
Coarse salt
2 tsp bread crumbs
Puree of olives
50 ml Family Reserve Picual EVOO
12 gr honey
2 teaspoons cider vinegar
250g black olives from Aragon
10g capers
4 anchovies
rosemary and fresh thyme
white pepper
Sauce
1 tbsp flour
1 shot of brandy
1 cup beef broth
PREPARATION
How to make the olive cover: Cut the crumb into cubes, add the chopped olives, almond powder, parsley, rosemary, EVOO, mustard and brandy. Mix all together until you have a paste.
How to make tapenade: mix EVOO, honey, thyme, oregano, pepper, vinegar and capers. Heat until vinegar evaporates. Remove and add the pitted olives and anchovies. Mash up.
How to make nests of kadaif: unravel the threads of angel hair paste and form circles. Place on a sheet of silicone, paint with some EVOO and bake it at 220 degrees during 5 min.
How to cook the meat:
If BEEF SIRLOIN. Season with salt and pepper. Brown it in a baking tray with some EVOO on all sides. Put it to a preheated oven at 240º during 20 min. Remove and reserve.
Put the same baking tray into the heat, add a tablespoon of flour (and roll it out), add 1 shot of brandy, reduce and add 1 cup of broth. Cook for a few minutes. Strain.
IF TENDERLOIN. Cut the tenderloin along, into 2 pieces. Mark in a nonstick skillet on all sides, about 12minutes. Remove.
Brush with egg white, put the cover on beef (tenderloin or beef sirloin), sprinkle breadcrumbs and grill for few seconds.
How to serve: In a bowl, add a cookie kadaif, fill it with the puree of olives. Place 2 pieces of meat over it.
September 2014