We have launched our first extra virgin olive oil certified as BIODYNAMIC by Demeter!
What is the meaning of BIODYNAMIC EVOO Castillo de Canena?
BIODYNAMIC EVOO Castillo de Canena owns DEMETER Certification that guarantees correct compliance with ALL of the BIODYNAMIC agricultural processes.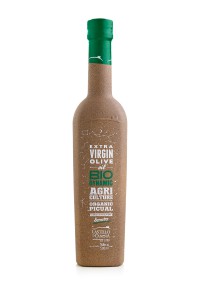 BIODYNAMIC agriculture seeks complete integration and harmony with the surrounding ecosystem and the cosmos itself. We are building an ORGANIC COMMUNITY
The Castillo de Canena ecosystem:

Coexistence of the olive grove with the natural forest: replanting of several autochthonous species of the area that enrich the earth and foster biodiversity
We produce our own compost: 45% alpeorujo, 10% leaves and 45% sheep humus as the only soil fertiliser
We produce our own biodynamic treatments that aid in the fertilisation of the soil and natural development of the olive tree
Adherence to the biodynamic calendar for pruning, watering, composting and harvesting
Special care with organic cover vegetation that nourishes the soil, protects it from erosion and forms a natural habitat for insects that naturally combat crop pests
Presence of sheep: their manure is used to produce compost and maintain cover vegetation
Installation of honeycomb panels on site at the farm: insects that act as bio-indicators of an insecticide-free environment and aid in the pollination process
Proper chrysopidae farm: predator insect that effectively controls endemic crop pests that effect olive groves
What are the tasting notes of BIODYNAMIC EVOO Castillo de Canena?
Herbaceous notes of grasses and vegetables prevail in this fresh, lively and expressive oil.
Olive leaf, lettuce and artichoke are the primary notes; next come the fresh fruits, tomato vine and a heady touch of green banana and ripe apple.
Well-integrated bitter and piquant with an astringent element hinting at artichoke, cardoon and persimmon. Persistent in the mouth.
Has BIODYNAMIC EVOO Castillo de Canena more characteristics?
It has high content of POLIPHENOLS (760 ppm, of which 436 are BIOPHENOLS). High percentage of antioxidants
On the other hand, Castillo de Canena collaborates in farming and water supply projects with the missionary group of Lake Turkana (Kenya) and with local farmers on the project "La tierra para la tierra"