INGREDIENTS
Black spaguetti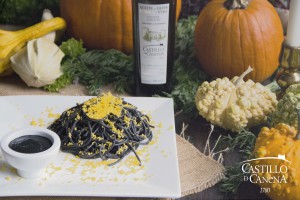 Orange cheddar
3 sweet onions
1 squid ink
White wine
PREPARATION
Chop onions and fry lightly in Family Reserve Arbequina extra virgin olive oil until they are well done. Add the squid ink and a splash of white wine. Let reduce until sauce gets thick.
Boil the spaghetti and drain. Mix well with Castillo de Canena Family Reserve Arbequina EVOO. Then mix with the sauce that we had previously prepared.
Finish with grated cheddar cheese.