Following the Mexican and Colombian recipes that we have developed together  with the handbag and sandals brand, Pulaa, which supports indigenous communities in Mexico and Colombia, today we present some classic carnitas with pico de gallo … of course, with a special and surprising ingredient as our smoked oil is!! It will add some smoked, caramel and toffee notes!!
In the picture you can see one of their "Oaxaca" handbags, traditional from the south-western Mexico.
INGREDIENTS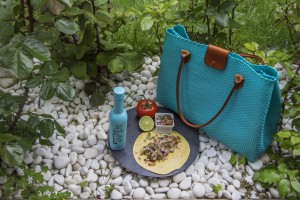 Pork ribs
5 Tomatoes
1 red onion
1 white onion
2 limes
Fresh cilantro
Green chile
1 garlic head
Quality Corn tortillas
Oak Smoked Arbequino olive oil (our smoked oil, the blue bottle!)
PREPARATION
First we'll prepare the roasted ribs, with its own juice. Place the ribs in aluminum foil, like a papillote. Pu tinto the oven for about one hour at 180-200º.
Once roasted, remove the meat from the ribs and reserve.
Pico de Gallo: Cut tomatoes, red onion and white onion in small cubes. Cut the Green chile and cilantro to taste. Now, we can drizzcle with our surprising and original smoked olive oil, the Oak Smoked Arbequino Castillo de Canena.
Serve carnitas with the "pico de gallo" salad and meat from ribs, separatel. Carnitas should be fiinished with few drops of lime juice to have that mexican touch!
June 2016