The manager of Caja Rural de Jaén Foundation, Luis Jesus Garcia-Lomas, and the CEO of Castillo de Canena Olive Juice, Francisco Vañó, have signed a collaboration agreement in which both entities join forces to carry out research projects, publications and training activities in the field of olive and olive oil. It is a framework agreement that in the near future will bring specific agreements for specific activities.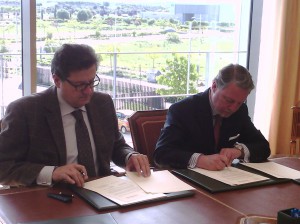 As they have explained, the first of the projects seeks to establish a system of diagnosis of the nutritional status of the olive tree through its sap. As part of this specific agreement, both companies will contribute with human and technical means. Thus, Castillo de Canena Olive Juice will contribute to the project by providing the olive farms available in the province of Jaen while Caja Rural de Jaen Foundation will work in the Olivarum agricultural laboratory, located in the Science and Technology Park Geolit. In the development of this project they are also involved the Universities of Jaén and Granada.
Both companies consider that the results of this research project will generate significant benefits in the field of olive. "This will provide a much more accurate and real time information about the situation at nutritional level of exploitation of olive that the leaf. On the other hand, this will validate the current method of diagnosis through the leaf ", has explained the manager of the Foundation.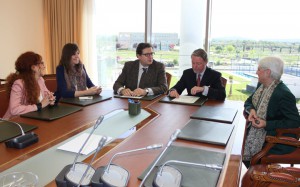 García Lomas explained that "the results obtained from this research may, among other benefits, provide a more accurate knowledge of the demand for nutrients by the olive tree to check the needs at all times".
The real novelty of this project is the process of sampling, which isolates the sap. Through analyzing sap itself we can study, for example, the evolution of nutrients in the fluid along olive phenology, which may shows the needs of the olive tree at all times.
"We must then consider the need of establishing an appropriate sampling time and even, if necessary, fix that time. Finally, we will establish reference values that will allow a diagnosis of the nutritional status of an olive grove" said Francisco Vañó.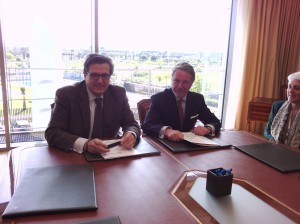 The CEO of Castillo de Canena Olive Juice added that "the analysis of sap by its characteristics becomes a very sensitive means of diagnosing the nutritional status of an olive grove and that would allow olive growing real accuracy." "The consequences of this research couldn be definitely of practical interest and it will open up several new lines of research at the scientific level," he concluded.
May 2015