Castillo de Canena has been honoured to appear in the article about EVOOS that the German journalist Dorit Schmitt has published this summer in the magazine "Château et Chocolat"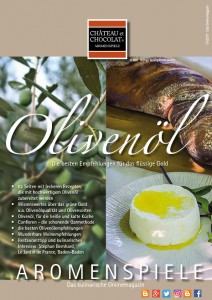 In this article she shows the German people what a real extra virgin olive oil is, its healthy attributes, its culinary applications, recipes, etc
Castillo de Canena is shown as one of the leaders in the world thanks to its tradition, excellence, innovation and being an environmentally friendly company.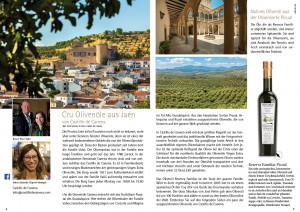 Dorit Schmitt, freelance journalist, editor, blogger and sommelier, she manages the German publications "Aromenspiele Das Online Magazine" and "Chateau et Chocolat"
In all her articles she seeks for the essence in each ingredient and how to combine it in international recipes. All of them, as it could not be otherwise, are combined with a good wine. She always looks for the history of each product, who are behind it, and she looks for the passion every single farmer and wine grower put in their everyday work.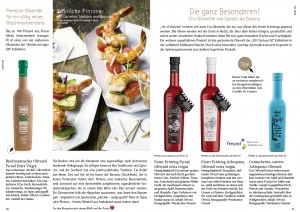 Dorit Schmitt is beloved and respected by all good food lovers in all levels, from the more renowned chef to food journalists and bloggers who are eager for Dorit´s publications.