The origins of the "horizontal tasting" take place through our close contact with a familiar area, olives and oils which we obtain year after year in the oil press. We grew our understanding through learning, observation and the wonderful practice of watching how our juices were rapidly evolving, changing, varying their qualities throughout the weeks, so that seemingly different oils came from the same olives harvested from identical trees.
We decided to share these experiences with all lovers of our oils, so that we would make a small contribution to the better understanding of the complex world of olive products, "fun" but at the same time a serious learning exercise: the discovery of how the same olive evolves from fruit harvested during three consecutive months. October, November, and December.
From the three varieties of olives which we grow in our fields, we selected the arbequina for the project as we feel its oils possess more nuances and it is easier to appreciate the changes in its structure, tastes, aromas and differences in colour over the weeks.
We chose the concept of "sensory tasting" (and here we include all the senses as well as sight) and "horizontal" , considering that this would best serve our educational purposes, in a nod to the field of oenology which compares the vintage of wines from the same winery through vertical tastings. We also believe that we would enrich it further if we interrelated the oils obtained with possible gastronomic pairings, matching the characteristics and factors of the three oils obtained with different foods and dishes. And of course, we are committed to the beauty and careful design in the presentation of both the box and the bottles, in honour of the supreme quality of the oils which make up the Horizontal Tasting.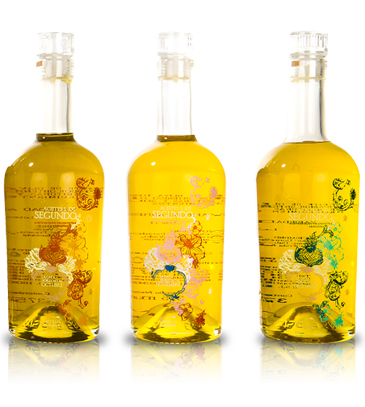 THE HORIZONTAL TASTING
October: Intense Colour, bright green.
Very fresh, clean and well-harmonised aromaolour without excessive back notes, reminding us of a mature apple and fresh almond, over an herbaceous background of tomato and red pepper.
Intense, saline, lingering fruity taste of marked fresh chlorophyll herbs and apple. Light
bitter touch which dissolves in the mouth and a characteristic and very pleasant bitterness which lingers and maintains the character of the oil. Creamy texture and good volume on the palate.
(Recommended on green and red salads with strong ingredients, such as pickled fish or partridge and on artichoke or asparagus dishes.)
November: Limpid golden colour with green background.
Aromas of average intensity which denote the evolution of the olive from its origins to baked apples, dried olive and hay. Metallic and dry wood notes can also be appreciated.
Light, soft taste although with its own strength from a good maturity point and the subsequent loss of rusticity. No bitterness and slightly spicy. Gourmet, baked apple notes can be appreciated and a final taste of oregano.  Good, typical texture of a pleasant oil, oily and well structured.
December: Intense, bright and very clean golden colour.
(Recommended for cooked fish, anchovies, salted fish, grilled seafood, and for cooking grilled mushrooms or to strengthen the taste of some raw Porcini mushrooms, for example.)
Aroma of dried fruits, hazelnuts, peanuts and mown grass, with a background of the sweetness of freshly harvested honeycomb, honey and wax. Well-combined aromas, without harsh edges
Well-harmonised, soft taste of very mature tomato, popcorn, well matured fruit and with a pleasant aftertaste of soothing freshness. With a marked personality but without spicy notes and with a very light bitterness. Very elegant texture, soft and pleasant to the touch
(Recommended for cooked fish, grilled crayfish, very fine raw vegetables such as watercress or cooked on the stem such as thistle or borage, for a beef carpaccio or to add to some eggs after frying.)