The only arbequino olive oil cold-infused with oak and other organic wood smoke. It has a fresh aroma and a warm touch of caramel.
Made using a traditional production system that follows strict quality controls and protocols.
It is presented in a 250 ml turquoise bottle with black silkscreen printed lettering. It also includes a booklet with suggested combinations and international recipes.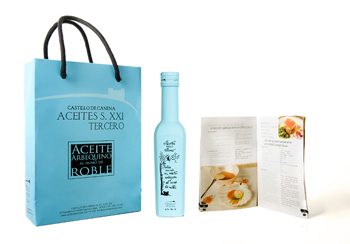 Always at the cutting edge and searching for innovation in the world of high-end olive oils, Castillo de Canena has once again astonished the market with the launch of a unique product: Arbequino Oil delicately Smoked.
This new oil belongs to its "XXIst Century Oils" collection and is an evocation of flavours and aromas, created by combining the best arbequino olives and a special blend of essences from organic noble woods (oak, beech, birch, etc.).
"Everything emerges from memory, from the nostalgic search for past sensations, looking back, towards our childhood. Noble woods, smoke, fresh winter mornings, toast in the fire… a blend of ancestral flavours and aromas that permeate extra virgin olive oils with their perfumes, creating an almost impossible combination", said Rosa Vañó, Director of Sales and Marketing at Castillo de Canena.
The tasting brings to mind fresh aroma of apple and almond, with a warm touch of caramel, vanilla and toffee.
Castillo de Canena makes this kind of oil using cold smoke fusion. Hence, the oil maintains all its essence and quality, preventing alterations in its properties without losing its flavour.
"To produce this oil, we have specifically developed a traditional system that follows the strictest quality controls and protocols. Thanks to smoke master, we have make a selection of several organic woos, overall oak wood", explained Francisco Vañó, Managing Director of Castillo de Canena.
Just as with the First Day of Havest oil and its characteristic cherry colour, Arbequino al Humo de Roble oil is presented in an elegant turquoise bottle. The round bottle is 250 ml with black silkscreen printed lettering.
Together with the bottle, we provide a booklet that explains the technical and agricultural production process behind the project and offers a series of combinations and international recipes. For example, king prawns with a spicy thai sauce, gilt-head bream with tabbouleh and steak with bérneise sauce.
The smoked flavour makes this an ideal oil to drizzle over all kinds of meat and fish, salads and for sauces.
Aceites del Siglo XXI
The "XXIst Century Oils" collection injects innovation into a product with over 3,000 years of history. A truly sensory experience for the palate that allows you to sample and delight in innovative oils that stand out for their originality, distinction and exceptionally high quality standards.
The company is striving to create a collection of oils that offer different concepts, different added values and new ways of interpreting and enjoying high-end olive oils.
After First "Early Royal" came Second "The Horizontal Tasting" (a single olive variety – arbequino – harvested over three consecutive months: October, November and December) and now Third "Arbequino oil delicately smoked".
Castillo de Canena oils are present in 40 countries around the world, mainly in Europe, the US, Japan and Australia.
Castillo de Canena
With an olive-growing tradition that stretches back to 1780, the company takes its name from the family castle that stands atop the hill in the municipality of Canena, in the province of Jaén. In this land of olive-growing tradition, the essence of Andalusian geography, the company has a beautiful estate dotted with family-owned olive trees at the foot of the Sierra Magina mountains, on the banks of the River Guadiana Menor, in the historic setting of Úbeda and Baeza.
Right from tending to the picual, arbequino and royal olive trees themselves, the Vañó family personally controls the whole process through which its extra virgin olive oils are made until they reach the shop.