In our selection of Latino recipes, we could not miss a superb ceviche. We decided to prepare a very special one: shrimp ceviche with Family Reserve Arbequina extra virgin olive oil Castillo de Canena! something different that will surprise you ….
As you know, we have developed these recipes in partnership with Pulaa accessories. This brand fights for the development of communities in Mexico and Colombia. As you can see, our ceviche is accompanied by a colorful handbag from its Wayuu line, made in La Guajira (Colombia) with strong thread and a fun combination of colors for summer!
INGREDIENTS
Fresh shrimps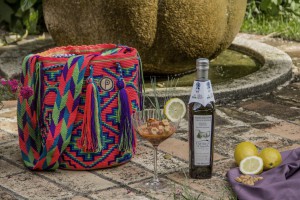 Red Chilli
Fried tomato
Coriander
Paprika
1 spring onion
Red pepper
4 lemons or limes (to choose)
Fried corn
Salt
Castillo de Canena Family Reserve Arbequina EVOO
PREPARATION
Remove the black vein of the shrimp and keep them marinating in lime juice for half an hour.
Chop the onion, red pepper, paprika and cilantro. Mix and add few drops of lime (or lemon if you prefer) and a pinch of salt.
Mix in a bowl the marinated shrimps and chopped ingredients. Finish with Castillo de Canena Family Reserve Arbequina extra virgin olive oil and some fried tomato sauce over (to taste).
Serve in a cocktail glass and decorate with some fried corn, which also will give a different and funny touch!
* Check here all Mexican and Colombian recipes that we have developed in collaboration with PULAA, the brand of handmade and ethnic accessories originating from Colombia and Mexico communities.