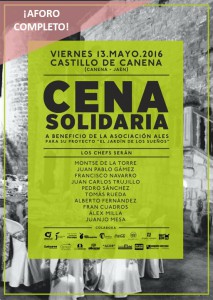 This evening an unique charity event will take place in our house, the castle of Canena (Castillo de Canena): some of the best chefs in our province, Jaen, will develop a menu whose funds will go to the ALES Association to realize the project "The Garden of Dreams". It will be a specially designed space in the hospital to try to make things a little bit easier and more comfortable to children with cancer & their families when they need to stay at the hospital.
We are very proud to have the opportunity to support a cause like this… and more now that we post "full attendance"!
Thank you very much to chefs who participe!!


– Montse de la Torre (Cantina "La Estación")
– Juan Pablo Gámez (Los Sentidos)
– Francisco Navarro (Támesis London)
– Juan Carlos Trujillo (Canela en Rama)
– Pedro Sánchez (Casa Antonio)
– Tomás Rueda (Almocadén)
– Alberto Fernández (Casa Herminia)
– Fran Cuadros (Mangasverdes)
– Álex Milla (Mercado Gourmet)
– Juanjo Mesa (La Alcuza)

May 2016