Appetizer from Austria
Ingredients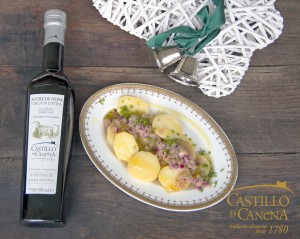 1/2 kg of small potatoes
1 small onion (purple onion much better)
20ml of soup of  meat or vegetables, could be water also
2 spoonful of wine white vinegar
4 spoonful of Castillo de Canena Family Reserve Arbequino
1 spoonful of Estragon Mustard
Salt, black pepper
Chives or hash parsley
Preparation
Boil the potates with their peels to 30 minutes together with salt and vinegar, in order that the peel and the potatoes do not get detached. The potatoes have to be well cooked.
Dry them and let them cool before peeling.    Remove the peel and cut in slices of 0,5 cm aprox.
Mix the rest of the ingredients (less the chive) with the minced onion and put all together in a pot on the fire.  When it is to mild temperature, add the potatoes and mix well.
Remove the pot to the fire and let it cool at least during 1 hour. Finish with the extra virgin olive oil Castillo de Canena Family Reserve Arbequino. Serve with the chives on the top.
December 2014