Main dish from Germany
Ingredients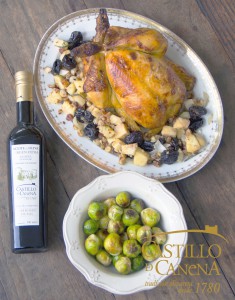 1 Goose (3 kgs)
3 apples clean and cutted to 4 (We suggest using Granny Smith)
150grames of raisin plums
1 peeled onion, cutted to 4.
150 grames of hazelnuts peeled
Thyme and rosemary
Salt and pepper
Water
2 leaves of laurel
2 spoonfuls of flour
EVOO Castillo de Canena Family Reserve Picual
1 cup of Brandy
Bird soup
Preparation
Preheat the oven to 180ºC.
Cut the apples and the onion. Remove the seed to the plums. Grind the hazelnuts and mix with the plums, onions and apples. Mix also with 2 spoonfuls of Castillo de Canena Family Reserve Picual EVOO. Refill the the goose with this mixing together with some thyme and Rosemary.
Introduce in the oven rack a glass and a half of bird soup, half cup of brandy and parsley. Put the goose on the top with the wings looking down. Add the salt and the laurel.  Prick the goose with a fort several times. (It helps to drain the fat).
Turn on the oven. Roast 1 hour and a half. Then, turn it over and roast  another 1 hour and a half
The sauce
When the goose is cooked, place it in a platter during a while. Remove 2 big spoonfuls of the fat in the platter and put in a frying pan with two spoonful of flour. Make a mass without lumps. Add the bird stock, together with the stock (without fat) from the goose juice.  Keep in the fire. You could add some sweet wine or Oporto to the Sauce. Salt, Pepper, thyme and Rosemary.
Serve in plates, together with the stuffed and with some other recipes that we show in this blog!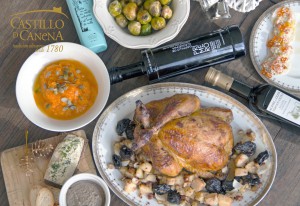 December 2014